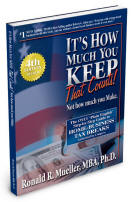 HOME BUSINESS
You'll Discover How:
Put an additional $200 - $600 per month, or more, in your take-home
pay starting NOW . GUARANTEED! 100% LEGAL & 100% LEGITIMATE.

To Reclassify Many Current Expenses Into Tax-Deductible Business Expenses!

Use The Money You Already Make To Fund Your Home-Based Business!
And Much, Much More!



CLICK HERE TO GET MORE INFORMATION OR TO BUY THE BOOK!
Learn How A Home Business Can Save You A Ton Of Money On Your Taxes!
CLICK HERE
TO SEE SOME "OTHER" GREAT TAXES YOU PAY!
CLICK HERE
TO SEE SOME HOME BUSINESS TAX SAVING CALCULATIONS!
"Just Mind Your Own Business!"™

© 2008 -2019 www.BradMirtes.com All rights reserved.
Home Business